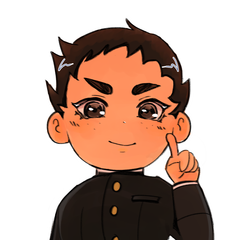 The Great Turnabout
A Dai Gyakuten Saiban /
The Great Ace Attorney Scrapbook Zine
---
The Great Turnabout is a SFW/PG-13 zine centered around Dai Gyakuten Saiban / The Great Ace Attorney, the spin-off Ace Attorney duology set in Meiji-era Japan and England at the turn of the nineteenth century. This zine will feature original art and writing about DGS characters we know and love, from Ryuu and Asougi to Susato and Sherlock (ahem, Herlock)!

This zine will be a scrapbook zine, giving off the feeling that it was created by the characters of the games about the events within and surrounding the duology. The goal is that it will be formatted like a memento that the Wright family could find in their attic 120+ years after The Great Ace Attorney takes place.

The Great Turnabout will be sold digitally and physically, along with merch bundles. The profits will be split between production costs and charity (AALDEF). We will feature work from 42 page artists, 10 merch artists, and 7 writers.
Chibi illustrations by the incredible Nao @nyansougi!
guidelines
For more information on the zine, contributor info, and application guidelines please check out our info document here!
Schedule
Our schedule is currently under revision, and this page will be updated once changes are finalized.
| Date | Event |
| --- | --- |
| July 11 | Announcement |
| July 13 - July 25 | Mod Applications |
| July 16 - Sept 19 | Interest Check |
| July 27 | DGS/TGAA English Release |
| Sept 27 - Oct 24 | Contributor Applications |
| November 2 | Contributor Decisions Emailed |
| November 7 | Contributor Team Finalized |
| November 15 | Concept Check-In |
| December 20 | Check-In 1 |
| January 17 | Check-In 2 |
| February 14 | Check-In 3 |
| February 28 | Final Submissions Due |
| March 16 - April 20 | Preorders |
| June/July 2022 | Shipping Begins |
MODERATORS
Téa (they/stars) ~ Production + Shipping + Finance
Twitter | Tumblr | Instagram
Téa is a recent college graduate who has modded over ten zines, including heading Silver Lining, which raised $2,000 for charity, and is currently lead mod of Lion Lilies: A Dadworth Zine. They are also a zine contributor, having created cover art, page illustrations, merch, and fics for various zines. Stars favorite DGS character is Susato, though favorites are incredibly hard to choose!
Val (he/they) ~ Layout + Formatting
Twitter | Tumblr | Instagram
Children's book illustrator and comic artist who spends too much time thinking about fictional law people. Val modded several FE3H zines before, and it seems we're staying in the dramatic-people-with-swords trope with this one. He'll be in charge of formatting the zine and bringing that unique DGS atmosphere through its pages. His favorite DGS characters are Sherlock, Susato, and Barok.
Jihae (she/her) ~ Visual Art
Twitter | Tumblr
A junior illustration student who has been an Ace Attorney fan since high school. She's modded several zines, serving as co-mod for Rally Spectrum and Rally Spectrum+, graphics and formatting on We Got Your Back, and art mod on Fódlan Cuizine, and is currently working as head mod for Turnabout Tarot. She'll be assisting with pitches and providing critique for any artists looking for it. Her favorite character is... hard to decide, with Ryuunosuke, Asougi, and Susato locked in a three-way split, with Haori trailing closely behind.
June (she/they) ~ Writing + Support
Twitter | AO3
June, a third-year literature student and avid Ace Attorney enjoyer, is really looking forward to managing this zine's writing contributors! June has written for several zines as a contributor, and helped out with writing check-ins for A New Trial Is In Session: An AA4 Zine. Their favorite DGS character is Asougi, though she holds a special fondness for Susato as well.
Fatima (she/they) ~ Social Media + Graphics + Support
Twitter | Tumblr | AO3
This will be Fatima's first time modding a zine, and they can't wait to get started! In their final year of university, they are working as a Written & Media Communications Director on their undergraduate student council and they are entering their third year as Director of Arts & Media for their local chapter of a national organization. Their favorite DGS character is Iris Watson; they wish they could be half as successful as the Little Biographer.
The Great Turnabout will donate any of our profits to the Asian American Legal Defense and Education Fund! This decision was based on feedback we received in our interest check, as well as a vote among our contributors. The AALDEF is a national organization that has worked to protect and promote the civil rights of Asian Americans through litigation, advocacy, education, and organizing since 1974. To find out more about what they do, click the link above to access their website.
faq
Q: What is a zine?
A: A zine is a sort of fanmade anthology/magazine of original work (in this case, work inspired by Dai Gyakuten Saiban / The Great Ace Attorney) that's distributed once complete! It's by fans, for fans :)

Q: Will this zine contain NSFW content?
A: No, this zine will be completely SFW. Canon-typical violence and language is permitted. We also ask that applicant samples/portfolios are PG-13 and include appropriate trigger warnings when applicable.

Q: Is AU content allowed in the zine?
A: No. Due to concerns regarding a potential lack of clarity in AU content, as well as sensitivity issues, we will not include AU content in the zine.

Q: Is work featuring mainline characters allowed in the zine?
A: No. Based on the interest check, we will limit zine content to TGAA/DGS characters only.

Q: I have a DGS/TGAA piece in the works. If I'm accepted, can I use it as my zine contribution?
A: So long as it hasn't yet been published or previewed and it fits the zine requirements, yes. If you're considering doing this, please mention it in your application!

Q: Will you be inviting guest contributors?
A: Yes! We plan to invite a selection of guest contributors to participate in the zine.

Q: What will contributors get?
A: Contributors will receive a digital copy of the zine, and we also hope to send our contributors physical copies and merch!

Q: Will you ship internationally?
A: Yes, though it might take a bit longer for our zine to reach you! The exception is the UK, where due to regulations involving VAT, we're still working out how best to proceed. We'll do our best to ship zines there, but we're unsure if we'll be able to. This doesn't apply to UK-based contributors, who we'll ship to regardless.

Q: Can I post WIPs or stream my piece?
A: Unfortunately, we ask that you limit sharing your WIP to the zine Discord and refrain from sharing it publicly. We want the zine to contain work that hasn't been seen before!

Q: Can I post or sell my finished piece?
A: Yes, once all preorders have been shipped; we would also appreciate it if you mention that your work has appeared in our zine and tag us, so we can promote your work on our socials!

Q: Are contributors required to have active social media accounts?
A: We'll be evaluating contributor applicants primarily based on their skill as artists, so we absolutely do not require them to be active on social media. The only requirement is that you have Discord, as that is what we'll use to communicate with contributors during zine creation and production.
If you have any other questions or concerns, please feel free to send us a DM on Twitter, a message on CuriousCat, an ask on Tumblr, or an email at [email protected].